Airplane Lockheed Martin F-35B Lightning II
Service History
Type
Multirole fighter
Place of origin
United States
Manufacturer
Lockheed Martin
First flight
15 December 2006
Introduction
2 August 2016 (USAF)
Status
In production
Primary user
United States Air Force
United States Marine Corps
United States Navy
Royal Australian Air Force
Produced
2006–present
Number built
760+ as of 1 February 2022
Developed from
Lockheed Martin X-35
General characteristics
Crew
1
Length
51.2 ft (15.6 m)
Wingspan
35 ft (10.7 m)
Height
14.3 ft (4.36 m)
Wing area
460 sq ft (42.74 m2)
Internal fuel
13,500 lb (6,123 kg)
Empty weight
32,472 lb (14,729 kg)
Weapons payload
15,000 lb (6,800 kg)
Range
>900 nmi (1,700 km)
Max takeoff weight
60,000 lb (27,200 kg) class
Combat radius on internal fuel
505 nmi (935 km)
Thrust/weight • full fuel:
• 50% fuel:

505 nmi
(935 km)
g limit
+7.0
The Lockheed Martin F-35 Lightning II is an American family of single-seat, single-engine, all-weather stealth multirole combat aircraft that is intended to perform both air superiority and strike missions. It is also able to provide electronic warfare and intelligence, surveillance, and reconnaissance capabilities. Lockheed Martin is the prime F-35 contractor, with principal partners Northrop Grumman and BAE Systems. The aircraft has three main variants: the conventional takeoff and landing (CTOL) F-35A, the short take-off and vertical-landing (STOVL) F-35B, and the carrier-based (CV/CATOBAR) F-35C.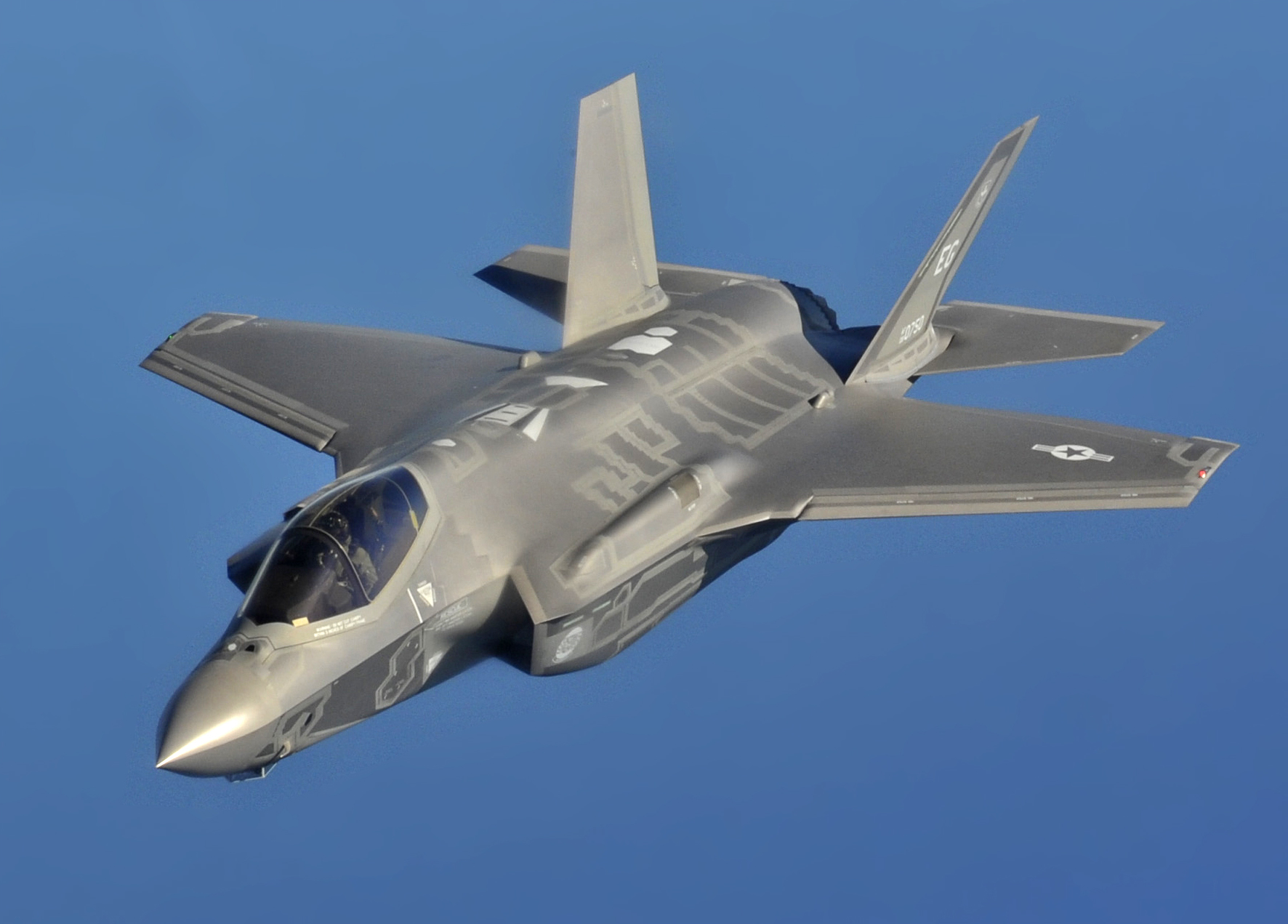 Development
The F-35 was the product of the Joint Strike Fighter (JSF) program, which was the merger of various combat aircraft programs from the 1980s and 1990s. One progenitor program was the Defense Advanced Research Projects Agency (DARPA) Advanced Short Take-Off/Vertical Landing (ASTOVL) which ran from 1983 to 1994; ASTOVL aimed to develop a Harrier Jump Jet replacement for the U.S. Marine Corps (USMC) and the U.K. Royal Navy. Under one of ASTOVL's classified programs, the Supersonic STOVL Fighter (SSF), Lockheed Skunk Works conducted research for a stealthy supersonic STOVL fighter intended for both U.S. Air Force (USAF) and USMC; a key technology explored was the shaft-driven lift fan (SDLF) system. Lockheed's concept was a single-engine canard delta aircraft weighing about 24,000 lb (11,000 kg) empty. ASTOVL was rechristened as the Common Affordable Lightweight Fighter (CALF) in 1993 and involved Lockheed, McDonnell Douglas, and Boeing.
F-35B
The F-35B is the short takeoff and vertical landing (STOVL) variant of the aircraft. Similar in size to the A variant, the B sacrifices about a third of the A variant's fuel volume to accommodate the SDLF. This variant is limited to 7 g.[316] Unlike other variants, the F-35B has no landing hook. The "STOVL/HOOK" control instead engages conversion between normal and vertical flight. The F-35B can also perform vertical and/or short take-off and landing (V/STOL).
More info:: en.wikipedia.org
Gallery