Helicopter Bell AH-1 Super Cobra
Service History
Type
Attack helicopter
Place of origin
United States
Manufacturer
Bell Helicopter
First flight
AH-1J: 1969
Introduction
AH-1J: 1971, AH-1W: 1986
Retired
2020 (USMC)
Primary users
United States Marine Corps (former)
Islamic Republic of Iran Army (former)
Republic of China Army
Turkish Army
Produced
1970–1980s
Number built
1,271+
Developed from
Bell AH-1 Cobra
Variants
Bell AH-1Z Viper
Panha 2091
IAIO Toufan
Developed into
Bell YAH-63
General characteristics
Crew
2: pilot, co-pilot/gunner (CPG)
Length
58 ft 0 in (17.68 m) with both rotors turning
45 ft 7 in (14 m) for fuselage only
Width
10 ft 9 in (3.28 m) for stub wings only
Height
13 ft 9 in (4.19 m)
Empty weight
10,200 lb (4,627 kg)
Max takeoff weight
14,750 lb (6,690 kg)
Powerplant
2 × General Electric T700-401 turboshaft engine, 1,690 shp (1,260 kW) each (de-rated from 1,800 shp (1,342 kW) for drivetrain limitations)
Main rotor diameter
45 ft 7 in (13.89 m)
Main rotor area
1,514.97 sq ft (140.745 m2)
Performance
Maximum speed
190 kn (220 mph, 350 km/h)
Never exceed speed
190 kn (220 mph, 350 km/h)
Range
317 nmi (365 mi, 587 km)
Service ceiling
12,200 ft (3,700 m)
Rate of climb
1,620 ft/min (8.2 m/s)
Armament
20 mm (0.787 in) M197 3-barreled Gatling cannon in the A/A49E-7 turret (750 rounds ammo capacity)
2.75 in (70 mm) Hydra 70 or APKWS II[58] rockets – Mounted in LAU-68C/A (7 shot) or LAU-61D/A (19 shot) launchers
5 in (127 mm) Zuni rockets – 8 rockets in two 4-round LAU-10D/A launchers
TOW missiles – Up to 8 missiles mounted in two 4-round XM65 missile launchers, one on each outboard hardpoint
AGM-114 Hellfire missiles – Up to 8 missiles mounted in two 4-round M272 missile launchers, one on each outboard hardpoint
AIM-9 Sidewinder anti-aircraft missiles – 1 mounted on each outboard hardpoint (total of 2)
The Bell AH-1 SuperCobra is a twin-engined attack helicopter based on the United States Army's single-engine AH-1 Cobra. The twin Cobra family, itself part of the larger Huey family, includes the AH-1J SeaCobra, the AH-1T Improved SeaCobra, and the AH-1W SuperCobra. The AH-1W was the backbone of the United States Marine Corps's attack helicopter fleet for decades until it was replaced by the next generation Bell AH-1Z Viper.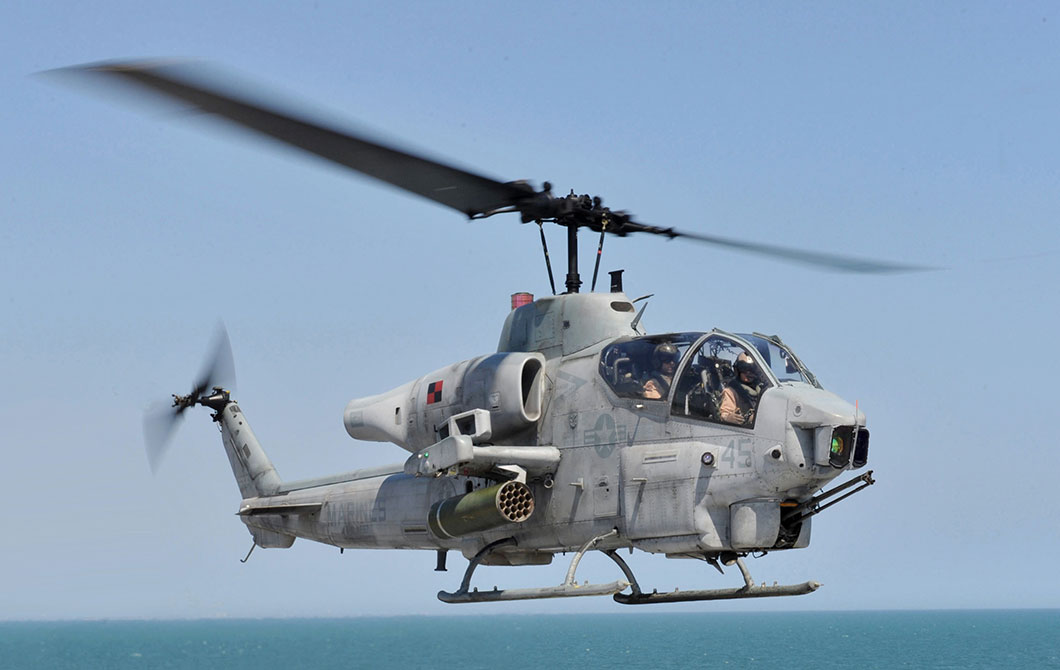 Design and development
The AH-1 Cobra was developed in the mid-1960s as an interim gunship for the U.S. Army for use during the Vietnam War. The Cobra shared the proven transmission, rotor system, and the T53 turboshaft engine of the UH-1 "Huey". By June 1967, the first AH-1G HueyCobras had been delivered. Bell built 1,116 AH-1Gs for the U.S. Army between 1967 and 1973, and the Cobras chalked up over a million operational hours in Vietnam.
The U.S. Marine Corps was very interested in the AH-1G Cobra, but it preferred a twin-engine version for improved safety in over-water operations, and also wanted a more potent turret-mounted weapon. At first, the Department of Defense had balked at providing the Marines with a twin-engine version of the Cobra, in the belief that commonality with Army AH-1Gs outweighed the advantages of a different engine fit. However, the Marines won out and awarded Bell a contract for 49 twin-engine AH-1J SeaCobras in May 1968. As an interim measure, the U.S. Army passed on 38 AH-1Gs to the Marines in 1969.[3] The AH-1J also received a more powerful gun turret. It featured a three-barrel 20 mm XM197 cannon based on the six-barrel M61 Vulcan cannon.
More info:: wikipedia.org
Gallery