Helicopter Bell OH 58D Kiowa Warrior
Type
Observation and reconnaissance helicopter
Place of origin
USA
First flight
Bell 206A: 10 January 1966
OH-58D: 6 October 1983
OH-58F: 26 April 2013
Manufacturer
Bell Helicopter
Introduction
May 1969
Status
In service
Primary users
United States Army (until 2020)
Republic of China Army
Royal Saudi Land Forces
Croatian Air Force
Produced
1966–1989
Number built
2,200
Developed from
Bell 206
General characteristics
Crew
2 pilots
Length
42 ft 2 in (12.85 m)
Height
12 ft 10 in (3.93 m)
Empty weight
3,829 lb (1,737 kg)
Gross weight
5,500 lb (2,495 kg)
Powerplant
1 × Rolls-Royce T703-AD-700A turboshaft, 650 hp (485 kW)
Main rotor diameter
35 ft 0 in (10.67 m)
Main rotor area
962.11 sq ft (89.42 m2)
Performance
Maximum speed
149 mph (240 km/h, 129 kn)
Cruise speed
127 mph (204 km/h, 110 kn)
Range
161 mi (556 km, 140 nmi)
Service ceiling
15,000 ft (4,575 m)
Endurance
2 hours
Hover ceiling IGE
8,200 ft (2,499 m)
Hover ceiling OGE
5,300 ft (1,615 m)
Armament
Hardpoints
2 pylons with provisions to carry combinations of:
Rockets: 1x LAU-68 rocket launcher with seven 70 mm (2.75") Hydra 70 rockets
Missiles: 2x AGM-114 Hellfire missiles
Other: 1x .50 cal (12.7 mm) M3P (or M296) heavy machine gun
The Bell OH-58 Kiowa is a family of single-engine, single-rotor, military helicopters used for observation, utility, and direct fire support. Bell Helicopter manufactured the OH-58 for the United States Army based on its Model 206A JetRanger helicopter. The OH-58 was in continuous U.S. Army service from 1969 to 2017, when it was replaced in these roles by the Boeing AH-64 Apache and Eurocopter UH-72 Lakota.
The latest model, the OH-58D Kiowa Warrior, is primarily operated in an armed reconnaissance role in support of ground troops. The OH-58 has been exported to Austria, Canada, Croatia, the Dominican Republic, Taiwan, Saudi Arabia, and Greece. It has also been produced under license in Australia.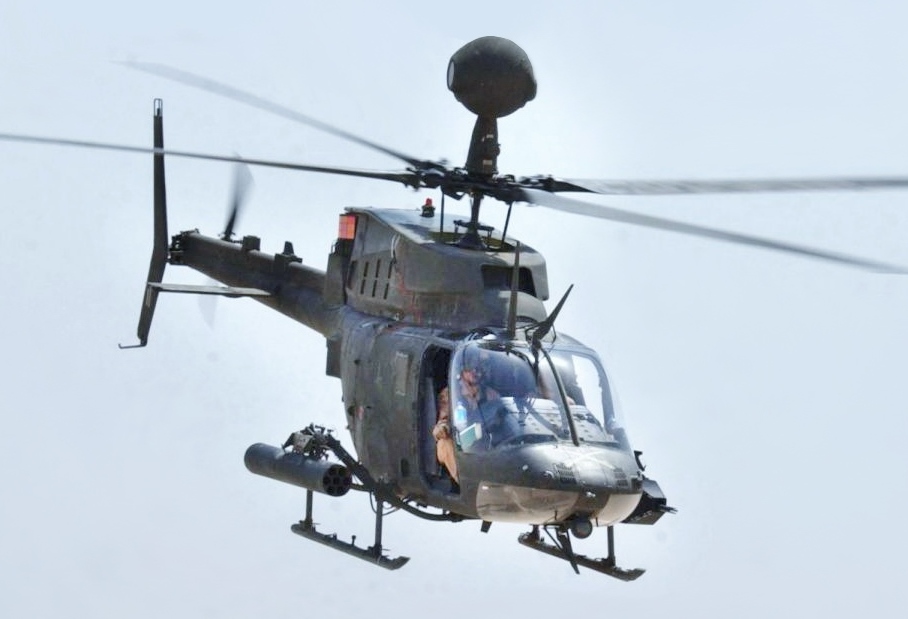 This image is a work of a U.S. Army soldier or employee, taken or made as part of that person's official duties. As a work of the U.S. federal government, the image is in the public domain.
Development
On 14 October 1960, the United States Navy asked 25 helicopter manufacturers on behalf of the Army for proposals for a Light Observation Helicopter (LOH). Bell Helicopter entered the competition along with 12 other manufacturers, including Hiller Aircraft and Hughes Tool Co., Aircraft Division. Bell submitted the D-250 design, which would be designated as the YHO-4. On 19 May 1961, Bell and Hiller were announced as winners of the design competition.
Bell developed the D-250 design into the Model 206 aircraft, with the HO-4 designation being changed to YOH-4A in 1962, and produced five prototype aircraft for the Army's test and evaluation phase. The first prototype flew on 8 December 1962. The YOH-4A also became known as the Ugly Duckling in comparison to the other contending aircraft.[8] Following a flyoff of the Bell, Hughes and Fairchild-Hiller prototypes, the Hughes OH-6 Cayuse was selected in May 1965.
Design
The OH-58D introduced the most distinctive feature of the Kiowa family — the Mast Mounted Sight (MMS), which resembles a beach ball perched above the rotor system. The MMS by Ball Aerospace & Technologies has a gyro-stabilized platform containing a television system (TVS), a thermal imaging system (TIS), and a laser range finder/designator (LRF/D). These new features gave the aircraft the additional mission capability of target acquisition and laser designation in day or night, limited-visibility and adverse weather.
The Mast Mounted Sight system was developed by the McDonnell Douglas Corp. in Huntington Beach, CA. Production took place primarily at facilities in Monrovia, CA. As a result of a merger with Boeing, and a later sale of the business unit, the program is currently owned and managed by DRS Technologies, with engineering support based in Cypress, CA, and production support taking place in Melbourne, FL.
More info:: en.wikipedia.org
Gallery