Helicopter Z-9 Haitun
Service History
Type
Medium multi-purpose utility helicopter
Place of origin
China
Manufacturer
Harbin Aircraft Manufacturing Corporation
First flight
1981
Introduction
1994
Status
In service
Primary users
People's Liberation Army Ground Force
Pakistan Naval Air Arm
Produced
1981-present
Number built
200+
Developed from
Eurocopter AS365 Dauphin
Variants
Harbin (Haitun) Z-19
General characteristics
Crew
1 or 2 pilots
Capacity
0 passengers or 1,900 kg (4,189 lb) payload internal, 1,600 kg (3,527 lb) payload slung
Length
12.11 m (39 ft 9 in)
Height
4.01 m (13 ft 2 in)
Empty weight
2,050 kg (4,519 lb)
Max takeoff weight
4,100 kg (9,039 lb)
Powerplant
2 × Zhuzhou Aeroengine Factory WZ-8A turboshaft, 632 kW (848 hp) each
Main rotor diameter
11.94 m (39 ft 2 in)
Main rotor area
111.98 m2 (1,205.3 sq ft) swept area
Performance
Maximum speed
305 km/h (190 mph, 165 kn)
Cruise speed
260 km/h (160 mph, 140 kn)
Ferry range
1,000 km (620 mi, 540 nmi) with internal auxiliary tank
Endurance
5 hours
Service ceiling
4,500 m (14,800 ft) *
Hovering Ceiling in ground effect
2,600 m (8,530 ft)
Hovering Ceiling out of ground effect
1,600 m (5,249 ft)
Armament
2 fixed 23 mm Type 23-2 (AM-23) cannon on attack variants. Pylons for rockets, gun pods, ET52 torpedo, HJ-8 anti-tank missiles, or TY-90 air-to-air missiles.
The Harbin Z-9 (NATO reporting name "Haitun", Chinese: 海豚 for Dolphin) is a Chinese military utility helicopter with civilian variants. It is a licensed variant of the French Eurocopter AS365 Dauphin, and is manufactured by Harbin Aircraft Manufacturing Corporation.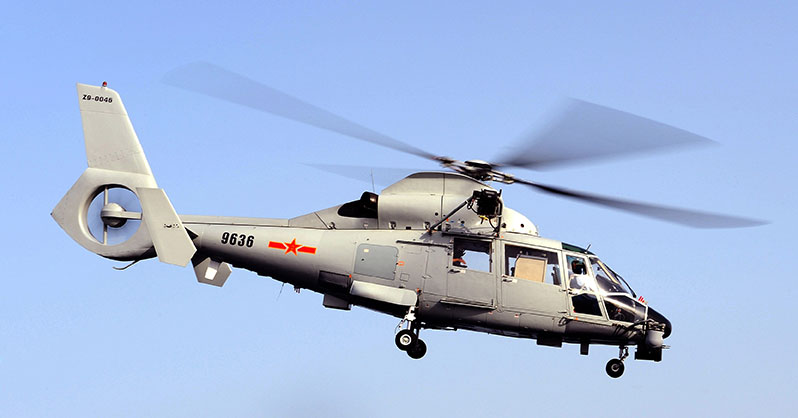 Design and development
The first Z-9 flew in 1981, and was built in China from components supplied by Aérospatiale as part of a production patent bought on 15 October 1980. On 16 January 1992, the indigenous variant Z-9B, constructed with 70% Chinese-made parts, flew successfully. The flight test was completed in November 1992 and the design was finalized a month later. Z-9B production began in 1993 and entered PLA service in 1994.
The Z-9B features an 11-blade Fenestron faired-in tail rotor with wider-chord, all-composite blades replacing the 13-blade used in the original AS365N. As a light tactical troop transport, the Z-9 has the capacity to transport 10 fully armed soldiers. Generally the Z-9 is identical to the AS365N Dauphin, though later variants of the Z-9 incorporate more composite materials to increase structural strength and lower radar signature.
More info:: wikipedia.org
Gallery