Mark VI patrol boat
Type

Patrol boat

Place of origin

USA

Class overview
Builders

SAFE Boats International

Operators

United States Navy

Preceded by

Mark V Special Operations Craft

Built

2015–2017

In commission

2016–present

General characteristics
Displacement
144,000 lb (65,000 kg) (72 tons)
Length
84.8 ft (25.8 m)
Beam
20.5 ft (6.2 m)
Draught
4 ft (1.2 m)
Propulsion
MTU 16V2000M94 (x2), 5,200 HP
Speed
45 knots (52 mph; 83 km/h)
Range
750 nmi (860 mi; 1,390 km) at 25 knots
690 nmi (790 mi; 1,280 km) at 30 knots
Troops
8
Complement
10 crew
Armament
2 × Mk 38 Mod 2 25 mm chain guns
The Mark VI is a class of patrol boat in service with the United States Navy, designed to patrol riverine and littoral waters. The first two Mark VI boats were delivered to Coastal Riverine Group TWO in September 2015. Two boats were forward deployed to Bahrain in April 2016, with Coastal Riverine Squadron TWO being the first to operate the craft in the Persian Gulf while assigned under Task Force 56. The Mark VI replaced the less capable Riverine Command Boats previously assigned to Task Force 56.
Two craft were delivered to Coastal Riverine Group ONE in 2016 and were subsequently forward deployed to Guam in 2017. A third craft was deployed to Bahrain in 2018 to replace the Coastal Command Boat prototype craft, which was returned to the United States where it was deactivated and placed in long term storage. A third craft was deployed to Guam, rounding out the initial deployment of the craft. The forward deployed craft are manned by rotational crews from the Navy's Coastal Riverine Force.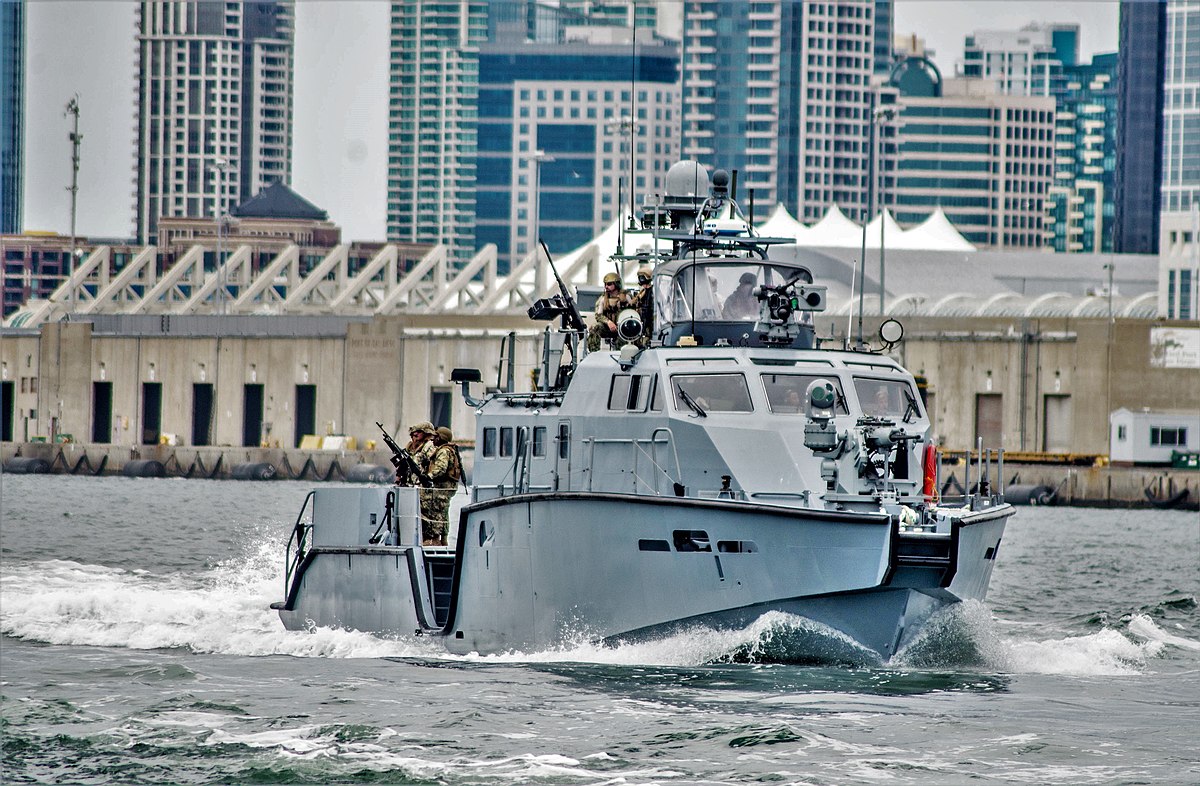 This file is a work of a sailor or employee of the U.S. Navy, taken or made as part of that person's official duties. As a work of the U.S. federal government, it is in the public domain in the United States.
History
The Mark VI patrol boat is built by SAFE Boats International. It represents a shift in Navy focus from Cold War-era blue water engagements to placing importance on brown water littoral zone operations. Designed to replace the legacy Riverine Command Boat for open water and near shore operations, the Mark VI is larger, more survivable, and better equipped with modernized weapons, communications, and intelligence, surveillance and reconnaissance systems. Despite the name the craft is not a replacement for the MK V SOC which was operated by Special Warfare Combatant Crewmen from 1998-2012 in a Special Operations role.
Design
The Mark VI is 84.8 ft (25.8 m) long,[9] significantly longer than previous classes of Navy patrol boats. It has a crew of 10 sailors and can carry 8 additional personnel. The interior is spacious, with berthing for the crew and shock-absorbing seats for other occupants; the seats and sound deadening berthing spaces and galley allow the crew to operate in relatively high sea states while attenuating crew fatigue and risk of injury. The boats are fully networked with a command, control, communication and computing, surveillance and intelligence (C4SI) suite for enhanced situational awareness, survivability, and multi-mission support which includes flat screen monitors mounted throughout the ship. Payloads can be configured to fulfill missions ranging from mine hunting to defending against swarm boat attacks.
Standard armament consists of two remote-controlled Mk 38 Mod 2 25 mm chain guns and six crewed M2 .50 caliber machine guns. Depending on mission needs, gun mounts can hold M240 machine guns, M134 miniguns, and Mk 19 grenade launchers. The Mark VI is equipped with the MK50 Gun Weapon System (GWS), a shipboard version of the vehicle-mounted M153 CROWS remote turret that enables crewmen to use its camera and gun from the operator's station below deck.[10] It is also planned to mount guided missiles such as the BGM-176B Griffin. Advanced lightweight armor plating is installed around key elements such as the crew compartment, engines and fuel tanks.
The aluminum-hulled Mark VI is powered by two MTU 16V2000M94 diesel engines connected to water jets that propel it faster than 35 kn (40 mph; 65 km/h), with a maximum range of 600 nmi (690 mi; 1,100 km). The reconfigurable main aft cabin can hold payloads such as Navy SEAL operators or a medical facility. The rear deck and stern is able to launch and recover small boats, unmanned aerial vehicles (UAVs), and unmanned undersea vehicles (UUVs). The craft's mast lowers to decrease overall height, allowing the craft to enter amphibious ship well decks. Mark VI can be transported and deployed by Navy amphibious ships such as landing helicopter docks, amphibious transport docks, and landing ship docks. Each Mark VI cost $15 million to build.
More info:: https://en.wikipedia.org/
Gallery