Helicopter Boeing AH 6 USA
Type
Light attack/reconnaissance helicopter
Place of origin
USA
First flight
2004
Manufacturer
Boeing Rotorcraft Systems
General characteristics
Crew
1–2
Capacity
5 total
Length
32 ft 7 in (9.94 m)
Wingspan
27 ft 4 in (8.33 m)
Height
8 ft 9 in (2.48 m)
Wing area
587.5 sq ft (54.6 m2)
Empty weight
1,591 lb (722 kg)
Max takeoff weight
3,550 lb (1,610 kg)
Powerplant
1 × One Allison 250-C30 turboshaft, 425 shp (317 kW) takeoff power (derated)
Performance
Maximum speed
152 kn (175 mph, 282 km/h)
Cruise speed
135 kn (155 mph, 250 km/h)
Range
232 nmi (267 mi, 430 km)
Service ceiling
18,700 ft (5,700 m)
Rate of climb
2,070 ft/min (10.5 m/s)
Armament
Guns
2× 12.7 mm (.50 cal) GAU-19; or
2× 7.62 mm (0.30 in) M134 Minigun
Rockets
2× LAU-68D/A seven-tube rocket pods firing 2.75 in (70 mm) Hydra 70 rocket projectiles
Missiles
Anti-tank guided missile: 2× AGM-114 Hellfire
Anti-air missile: 2× FIM-92 Stinger for self-defense
The Boeing AH-6 is a series of light helicopter gunships based on the MH-6 Little Bird and MD 500 family. Developed by Boeing Rotorcraft Systems, these include the Unmanned Little Bird (ULB) demonstrator, the A/MH-6X Mission Enhanced Little Bird (MELB), and the proposed AH-6I and AH-6S.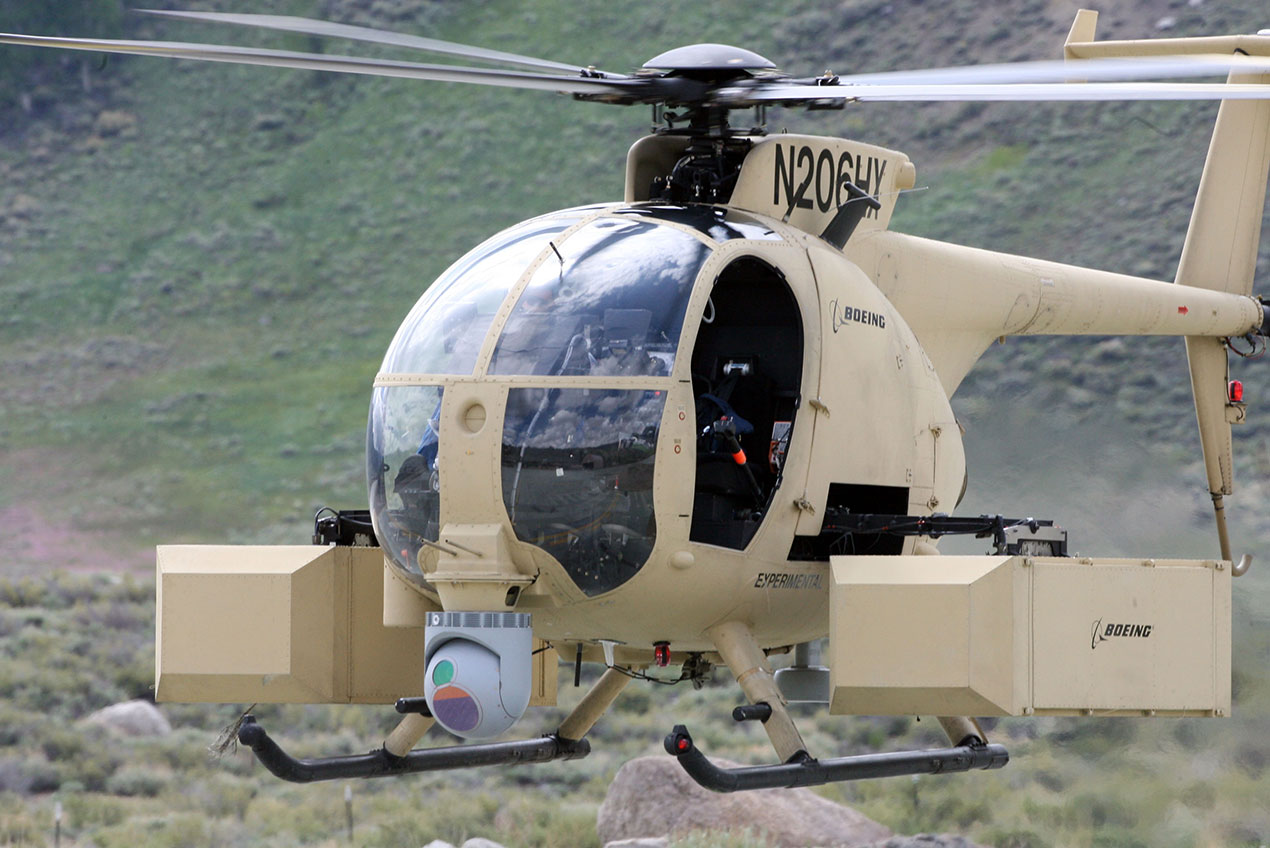 This Image was released by the United States Marine Corps with the ID 090616-M-9917S-144 (next).
Design and development
The Unmanned Little Bird demonstrator, which Boeing built from a civilian MD 530F, first flew on September 8, 2004, and made its first autonomous flight (with safety pilot) on October 16, 2004.
In April 2006, Boeing used the ULB to demonstrate the ability of another helicopter, in this case an AH-64 Apache to remotely control the ULB's weapons payload as a part of Boeing's Airborne Manned/Unmanned System Technology Demonstration (AMUST-D) program. For the initial test, the Apache Longbow was on the ground, while the ULB was airborne several miles away and Hellfire missiles were fired from the ULB by a tester sitting at the co-pilot's station in the Apache. Both aircraft are equipped with tactical common data link equipment and technologies manufactured by L-3 Communications.
More info:: en.wikipedia.org
Gallery