Helicopter AW129 Mangusta
Service History
Type
multirole combat helicopter
Place of origin
Italy
First flight
1983
Manufacturer
AugustaWestland
Introduction
May 1969
Number built
15
General characteristics
Crew
2 (pilot and weapon system officer)
Overall Length with Both Rotors Turning
14.29m
Height to Top of Rotor
3.35m
Main Rotor Diameter
11.9m
Fuselage Length
14.6m
Maximum Mission Gross Weight
5,000kg
Empty Weight
2,530kg
Maximum Take-Off Weight
4,600kg
The AW129 multirole combat helicopter is the latest variant of the A129 Mangusta (Mongoose) helicopter in service with the Italian Army. It is manufactured by AgustaWestland, a joint venture company, which was originally formed by Finmeccanica of Italy and GKN of the UK, but is now solely owned by Finmeccanica.
The A129 International was renamed AW129 in 2007. The AW129 is a multirole helicopter for armed reconnaissance and surveillance, high-value ground-target engagement, escort, fire support, and air-threat suppression. It is armed with new powerful air-to-ground and air-to-air missiles, an off-axis cannon and an increased weapon payload. The five-bladed A129 International also has more powerful engines than the four-bladed Mangusta.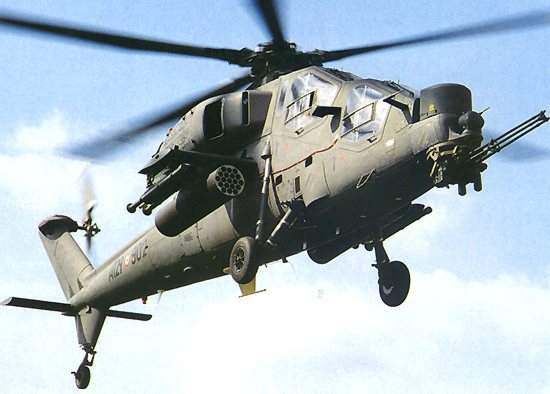 Development
In January 2002, AgustaWestland was awarded a contract to upgrade the first 45 to the multirole standard. The upgrade included: five-blade composite main rotor and two-blade tail rotor, Rolls-Royce Gem 1004 engines, new stronger transmission with a torque of 1,700shp, strengthened fuselage giving an increase in take-off weight to 4,600kg, improved weapons systems including Oto Melara 197B 20mm nose-mounted cannon and the Stinger air-to-air missiles, new FLIR (forward-looking infrared) system, improved countermeasures suite including EADS AN/AAR-60 missile launch detector and new global positioning / inertial navigation (GPS/INS) system. Deliveries concluded in July 2008.
Design
The structure of the helicopter is a semi-monocoque design with an aluminium alloy frame. Composite materials make up almost 50% of the fuselage weight. The airframe provides ballistic protection against 12.7mm armour piercing rounds. The engines are armour protected. The main rotor has ballistic tolerance against 12.7mm rounds.
More info:: airforce-technology.com
Gallery