Helicopter MD-530MG Defender
Type
Light multi-role helicopter
Place of origin
USA
First flight
1976
Manufacturer
Hughes Helicopters
McDonnell Douglas Helicopter Systems
MD Helicopters
First flight
1976
Status
In service
Primary users
Republic of Korea Army
Iraqi Air Force
Israeli Air Force
Philippine Air Force
Produced
1976–present
Number built
471
Developed from
Hughes OH-6 Cayuse MD Helicopters MD 500
General characteristics
Crew
1–2
Length
30 ft 9.5 in (9.385 m) rotors running
Height
8 ft 8.5 in (2.654 m) to top of rotor hub
8 ft 10.75 in (2.71 m) to top of tail fin
Empty weight
1,512 lb (686 kg)
Max takeoff weight
2,550 lb (1,157 kg) normal MTOW
3,000 lb (1,361 kg) overlaoad MTOW
Powerplant
1 × Allison Model 250-C20B turboshaft engine, 420 shp (310 kW)
Main rotor diameter
26 ft 4.75 in (8.0455 m)
Performance
Maximum speed
132 kn (152 mph, 244 km/h) at 1,000 ft (305 m)
Cruise speed
117 kn (135 mph, 217 km/h) at sea level
Range
318 nmi (366 mi, 589 km) at 4,000 ft (1,219 m)
Service ceiling
4,390 ft (1,340 m)
Rate of climb
1,700 ft/min (8.6 m/s)
Hover ceiling IGE
8,200 ft (2,499 m)
Hover ceiling OGE
5,300 ft (1,615 m)
The McDonnell Douglas Helicopter Systems MD 500 Defender is a light multi-role military helicopter based on the MD 500 light utility helicopter and OH-6 Cayuse Light Observation Helicopter.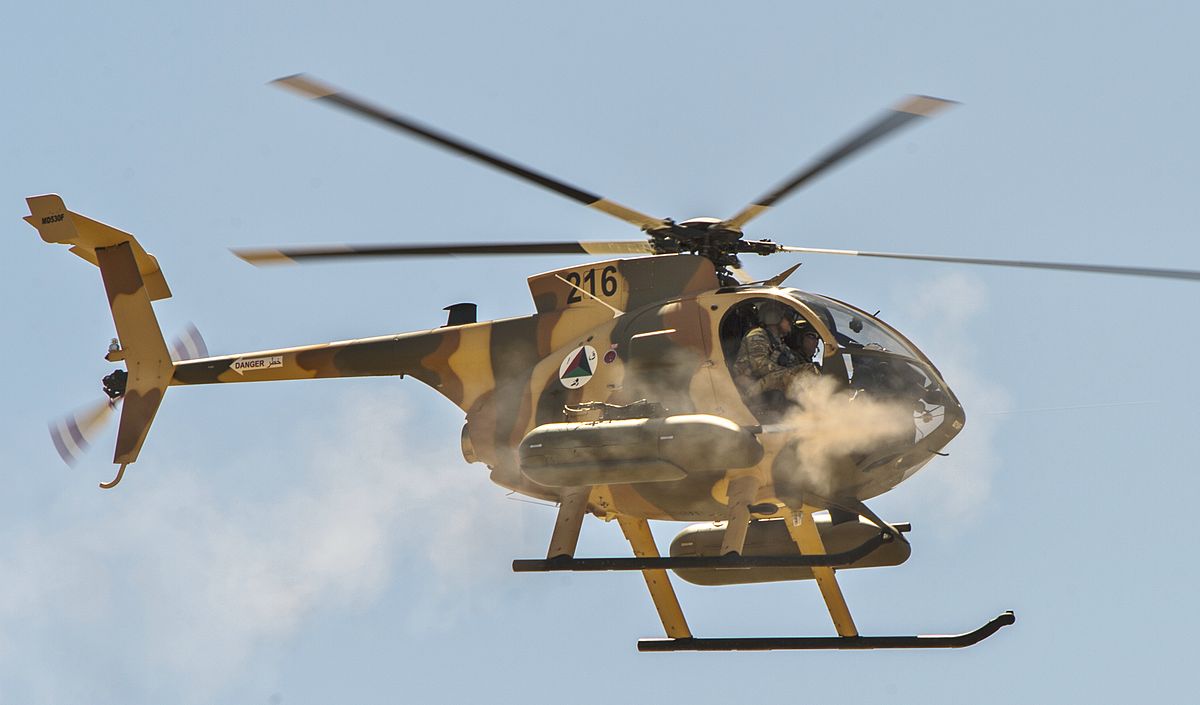 This image or file is a work of a U.S. Air Force Airman or employee, taken or made as part of that person's official duties. As a work of the U.S. federal government, the image or file is in the public domain in the United States.
The original OH-6 Cayuse helicopter proved its worth during the Vietnam War in the light helicopter role. The designers at Hughes realized there was a market for a light multi-mission helicopter with an improved equipment fit than the OH-6 and Model 500M. The resulting design was the Model 500MD Defender which first flew in 1976. It was tailored for specific roles including unarmed observation and an armed scout helicopter equipped with TOW anti-tank missiles. An anti-submarine version was developed with a search radar, magnetic anomaly detector and the capability to carry lightweight aerial torpedoes.
The Defender was later built as an improved version as the MD530MG, with increased engine power, handling, avionics, and a redesigned forward fuselage. Later developments included a mast mounted sight (MMS).
More info:: en.wikipedia.org
Gallery