Helicopter MBB-Bo-105-PAH-1
Type
Light utility helicopter
Place of origin
West Germany
First flight
16 February 1967
Manufacturer
Messerschmitt-Bölkow-Blohm (MBB)
Status
In service
Primary users
Republic of Korea Army
Indonesian Army
Spanish Army
Philippine Navy
Produced
1967–2001
Number built
1,500+
General characteristics Bo 105CB
Crew
1–2
Length
11.86 m (38 ft 11 in) (total length - including rotors)
Height
Height: 3.00 m (9 ft 10 in)
Airfoil
NACA 23012
Empty weight
1,276 kg (2,813 lb)
Max takeoff weight
2,500 kg (5,512 lb)
Fuel capacity
570 L (150 US gal; 130 imp gal)
Powerplant
× Allison 250-C20B turboshaft engines, 310 kW (420 shp) each
Main rotor diameter
26 ft 4.75 in (8.0455 m)
Main rotor area
76.05 m2 (818.6 sq ft)
Performance
Maximum speed
242 km/h (150 mph, 131 kn)
Cruise speed
204 km/h (127 mph, 110 kn) (best range cruise)
Never exceed speed
270 km/h (170 mph, 150 kn)
Range
657 km (408 mi, 355 nmi) at 1,525 m (5,000 ft) (standard fuel, maximum payload)
Ferry range
1,112 km (691 mi, 600 nmi) at 1,525 m (5,000 ft) (with auxiliary tanks)
Endurance
3 hr 30 min (standard fuel, maximum payload)
Service ceiling
5,200 m (17,000 ft)
Rate of climb
8.00 m/s (1,575 ft/min)
Armament
Missiles
6x Euromissile HOT (Bo 105 P) or 8x BGM-71 TOW
The Messerschmitt-Bölkow-Blohm Bo 105 is a light, twin-engine, multi-purpose helicopter developed by Bölkow of Ottobrunn, West Germany. It was the first light twin-engine helicopter in the world, and the first rotorcraft that could perform aerobatic maneuvers such as inverted loops. The Bo 105 features a revolutionary hingeless rotor system, a pioneering innovation in helicopters when it was introduced into service in 1970. Production of the Bo 105 began at the then-recently merged Messerschmitt-Bölkow-Blohm (MBB).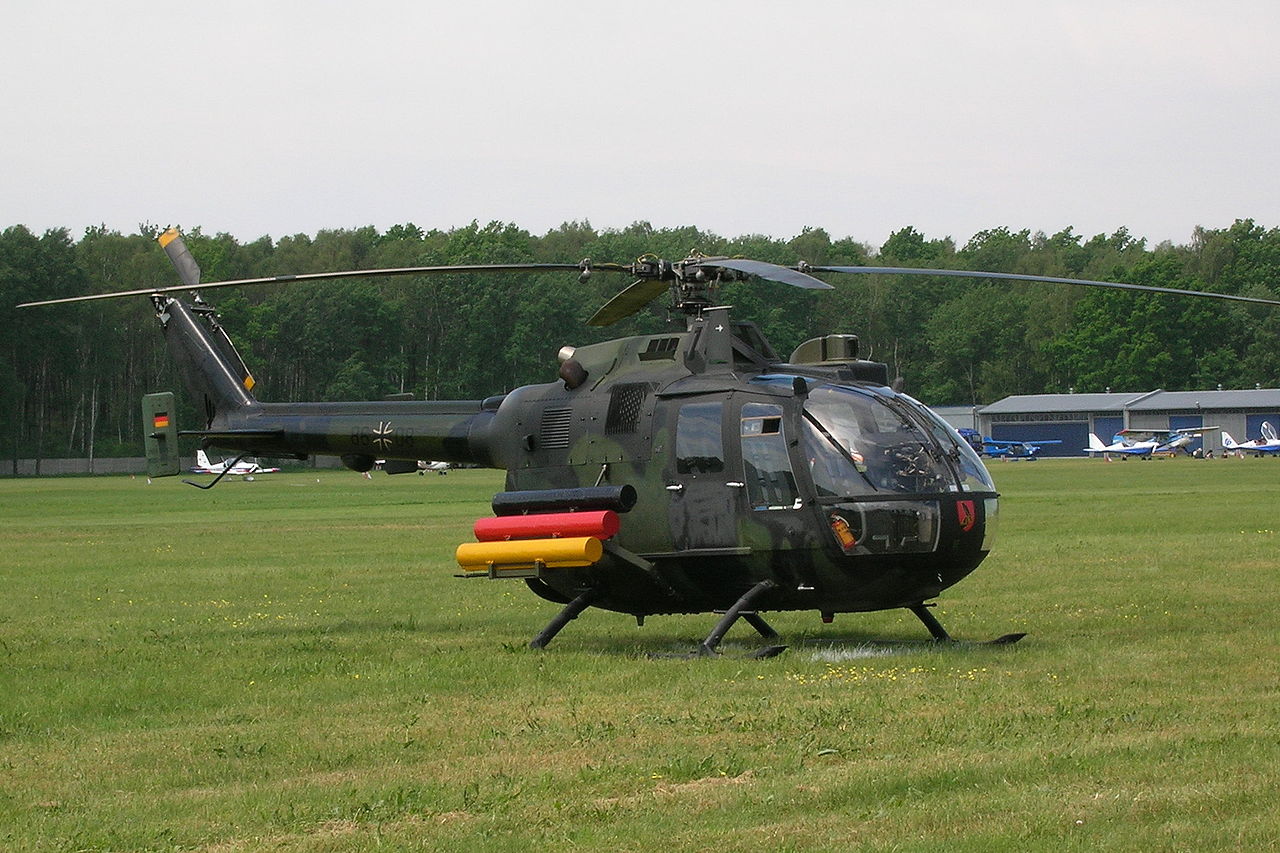 Copyright © 2005 Voytek S Bölkow Bo 105 during Góraszka Air Picnic 2005, Poland At the nose of the Bo-105 the coat of arms of the German Army Aviatiors School is seen. The helicopter is based at the Heeresflugplatz Celle (Celle Air Base). This file is licensed under the Creative Commons Attribution-Share Alike 3.0 Unported license.
Development
In 1964, development work began at Bölkow upon the helicopter that would become the Bo 105, although work on the hingeless rotor it would use had begun earlier. On 16 February 1967, the second Bo 105A prototype conducted its maiden flight at Ottobrunn in Germany; the first public demonstration was held in May 1967. The test program was broken down into stages as the Bo 105 comprised a new airframe, new rotor system, and a new engine; thus the flying Bo 105 prototype was initially equipped with a main rotor from Westland Helicopter's Scout rotorcraft and a pair of Allison Model 250 turboshaft engines instead of their production counterparts. Sud Aviation worked with Bölkow on developing the rotorcraft; an Alouette II helicopter was modified with the Bo 105's rotor and used to test its performance envelope. The third Bo 105 prototype was equipped with the initial production standard MAN Turbo 6022 turboshaft engines; six pre-production Bo 105s were constructed for testing.
Bo 105P/PAH-1
With its army designation "PAH-1" and "PAH-1A1" for the upgraded version (PAH=Panzerabwehrhubschrauber; 'Tank-defence helicopter'), is an anti-tank helicopter armed with wire-guided HOT ATGMs (HOT2 for the upgraded A1 version).[11] Following the arrival of the Eurocopter Tiger attack helicopter, some were retired while others disarmed and downgraded to the VBH version for continued service.
More info:: en.wikipedia.org
Gallery