Drone Boeing X-48B
Role
Experimental unmanned aerial vehicle
Place of origin
USA
Manufacturer
Boeing
First flight
July 20, 2007
Status
Retired
Produced
2
General characteristics
Crew
None (onboard)
Wingspan
21 ft (6.4 m)
Wing area
100.5 sq ft (9.34 m2)
Aspect ratio
4.1
Empty weight
392 lb (178 kg)
Gross weight
500 lb (227 kg)
Powerplant
3 × JetCat P200 turbojet, 52 lbf (0.23 kN) thrust each
Performance
Maximum speed
136 mph (219 km/h, 118 kn)
Endurance
40 minutes
Service ceiling
10,000 ft (3,000 m)
The Boeing X-48 is an American experimental unmanned aerial vehicle (UAV) built to investigate the characteristics of blended wing body (BWB) aircraft. Boeing designed the X-48 and two examples were built by Cranfield Aerospace in the UK. Boeing began flight testing the X-48B version for NASA in 2007. The X-48B was later modified into the X-48C version, which was flight tested from August 2012 to April 2013. Boeing and NASA plan to develop a larger BWB demonstrator.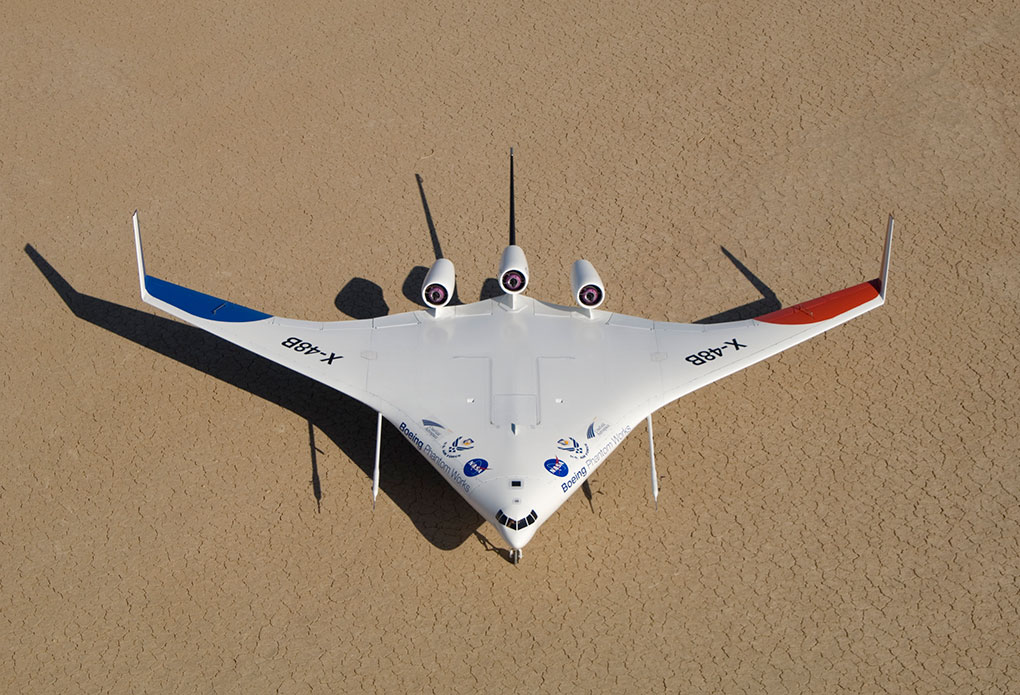 This file is in the public domain in the United States because it was solely created by NASA. NASA copyright policy states that "NASA material is not protected by copyright unless noted". (See Template:PD-USGov, NASA copyright policy page or JPL Image Use Policy.)
Boeing had in the past studied a blended wing body design, but found that passengers did not like the theater-like configuration of the mock-up; the design was dropped for passenger airliners, but retained for military aircraft such as aerial refueling tankers.
Operational history
The X-48B first flew on July 20, 2007, reaching an altitude of 7,500 ft (2,286 m); the flight lasting 31 minutes. The remotely piloted aircraft was successfully stalled for the first time on September 4, 2008, with fixed leading edge slats, a forward center of gravity, and 23-degree angle of attack (2° beyond the maximum coefficient of lift). Stall testing was repeated on September 11 with a NASA pilot at the console.
More info:: en.wikipedia.org
Gallery