Airplane SU-30SM
Service History
Type
Multirole fighter, air superiority fighter
Place of origin
Soviet Union, Russia
Manufacturer
Sukhoi
First flight
31 December 1989
Introduction
1996
Status
In service
Primary user
Russian Air Force
Algerian Air Force
Armenian Air Force
Vietnam People's Air Force
Produced
1992–present
Number built
630+
Developed from
Sukhoi Su-27
General characteristics
Crew
1 or 2
Length
21.935 m (72 ft 0 in)
Wingspan
14.7 m (48 ft 3 in)
Height
6.36 m (20 ft 10 in)
Wing area
62 m2 (670 sq ft)
Empty weight
17,700 kg (39,022 lb)
Gross weight
24,900 kg (54,895 lb)
Max takeoff weight
34,500 kg (76,059 lb)
Fuel capacity
9,400 kg (20,723 lb) internal
Powerplant
2 × Saturn AL-31FL/FP Afterburning turbofan engines, 74.5 kN (16,700 lbf) thrust each dry, 122.58 kN (27,560 lbf) with afterburner
Performance
Maximum speed
2,120 km/h (1,320 mph, 1,140 kn) at high altitude
Maximum speed
Mach 2
Range
3,000 km (1,900 mi, 1,600 nmi) at high altitude
Service ceiling
17,300 m (56,800 ft)
g limits
+9
Rate of climb
230 m/s (45,000 ft/min)
Wing loading
401 kg/m2 (82 lb/sq ft) with 56% fuel
468.3 kg/m2 (95.9 lb/sq ft) with full internal fuel
Thrust/weight
1 with 56% fuel
0.86 with full internal fuel
Armament
Guns
1 × 30 mm Gryazev-Shipunov GSh-30-1 autocannon with 150 rounds
Hardpoints
12 hardpoints with a capacity of up to 8,000 kg (18,000 lb), with provisions to carry combinations of:

Rockets: S-8KOM/BM/OM
S-13T/OF
S-25OFM-PU
Missiles:
Air-to-air missiles:
R-27R/ER/T/ET/P
R-73E/M
RVV-AE(R-77)
Air-to-surface missiles:
Kh-29TE/L
Kh-59M/ME
Anti-ship missiles:
Kh-31A
Anti-radiation missiles:
Kh-31P
Bombs: KAB-500KR general-purpose bomb
KAB-500OD bomb
KAB-1500KR GP bomb
KAB-1500L laser-guided bomb
FAB-500T GP bomb
BETAB-500SHP bomb
ODAB-500PM bomb
OFAB-250-270 bomb
OFAB-100-120 bomb
P-50T bomb
The Sukhoi Su-30 (Russian: Сухой Су-30; NATO reporting name: Flanker-C/G/H) is a twin-engine, two-seat supermaneuverable fighter aircraft developed in the Soviet Union by Russia's Sukhoi Aviation Corporation. It is a multirole fighter for all-weather, air-to-air and air interdiction missions.
The Su-30 started as an internal development project in the Sukhoi Su-27 family by Sukhoi. The design plan was revamped and the name was made official by the Russian Defense Ministry in 1996. Of the Flanker family, the Su-27, Su-30, Su-33, Su-34 and Su-35 have been ordered into limited or serial production by the Russian Defense Ministry. The Su-30 has two distinct version branches, manufactured by competing organisations: KnAAPO and the Irkut Corporation, both of which come under the Sukhoi group's umbrella.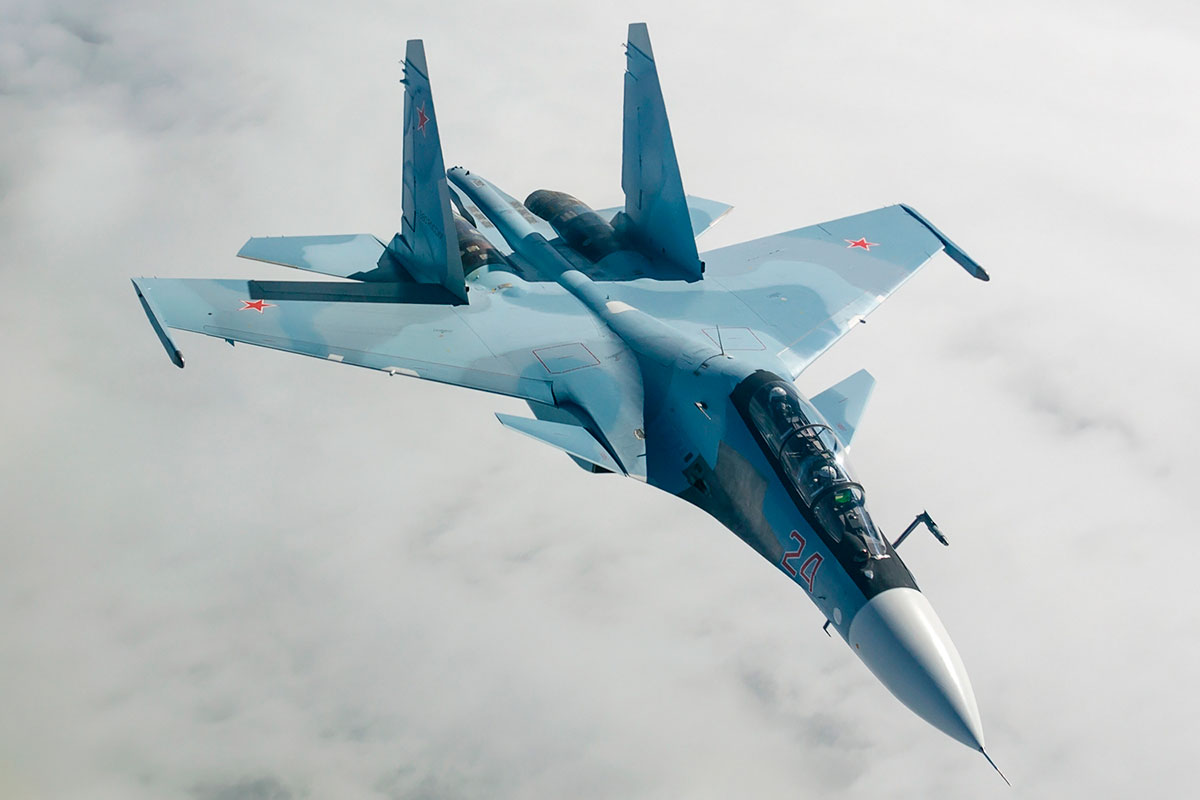 Development
While the original Su-27 had good range, it still did not have enough range for the Soviet Air Defense Forces (PVO, as opposed to VVS – the Soviet Air Force). The Air Defense Forces needed to cover the vast expanse of the Soviet Union. Hence, development began in 1986 on the Su-27PU, an improved-capability variant of the Su-27 capable of serving as a long-range interceptor or airborne command post.
Operational history
In 1994–1996, an initial batch of five original Su-30 (Su-27PU) fighters, contracted for the Russian Defence Ministry, were delivered to 54th Guards Fighter Aviation Regiment based at Savasleyka air base.[13] After the regiment was disbanded in 2002, the aircraft became part of 4th Centre for Combat Employment and Retraining of Personnel in Lipetsk where they were flown mostly by Russian Falcons aerobatic team.[14] No further orders of the variant were made. However, the Russian Defence Ministry was impressed with the export Su-30MKI's performance envelope and ordered a total of 60 Su-30SM fighters, under two contracts signed in March and December 2012, respectively.
More info:: ru.wikipedia.org
Gallery