Airplane IAI Lavi
Type
Multirole fighter
Place of origin
Israel
Manufacturer
Israel Aircraft Industries
Introduction
May 1969
Status
Canceled in August 1987
Primary users
Israel
Number built
3 prototypes
General characteristics
Crew
1
Length
14.57 m (47 ft 10 in)
Wingspan
8.78 m (28 ft 10 in)
Height
4.78 m (15 ft 8 in)
Wing area
33 m2 (360 sq ft)
Empty weight
7,031 kg (15,501 lb)
Gross weight
9,991 kg (22,026 lb)
Powerplant
1 × Pratt & Whitney PW1120 afterburning turbofan, 91.5 kN (20,600 lbf) with afterburner
Max takeoff weight
19,277 kg (42,499 lb)
Performance
Maximum speed
1,965 km/h (1,221 mph, 1,061 kn)
Range
3,700 km (2,300 mi, 2,000 nmi)
Service ceiling
15,240 m (50,000 ft)
Rate of climb
254 m/s (50,000 ft/min)
Wing loading
303.2 kg/m2 (62.1 lb/sq ft)
Thrust/weight
0.94
Armament
Guns
1 × 30 mm DEFA cannon
The IAI Lavi (Hebrew: לביא, "Young Lion") was a single-engined fourth-generation multirole jet fighter developed in Israel, by Israel Aircraft Industries (IAI), during the 1980s. The decision to develop the Lavi was controversial, both with the Israeli public, due to the enormous associated costs, and particularly with the U.S. government due to competition with American jets on the export market. By 1984 Israel, with a population of 4 million, had the world's highest military expenditure as a proportion of GDP, at 24%,[citation needed] a rate of spending considered unsustainable.[by whom?] These issues contributed to the ultimate cancellation of the aircraft, by the Israeli government, during the flight-test phase of development in August 1987.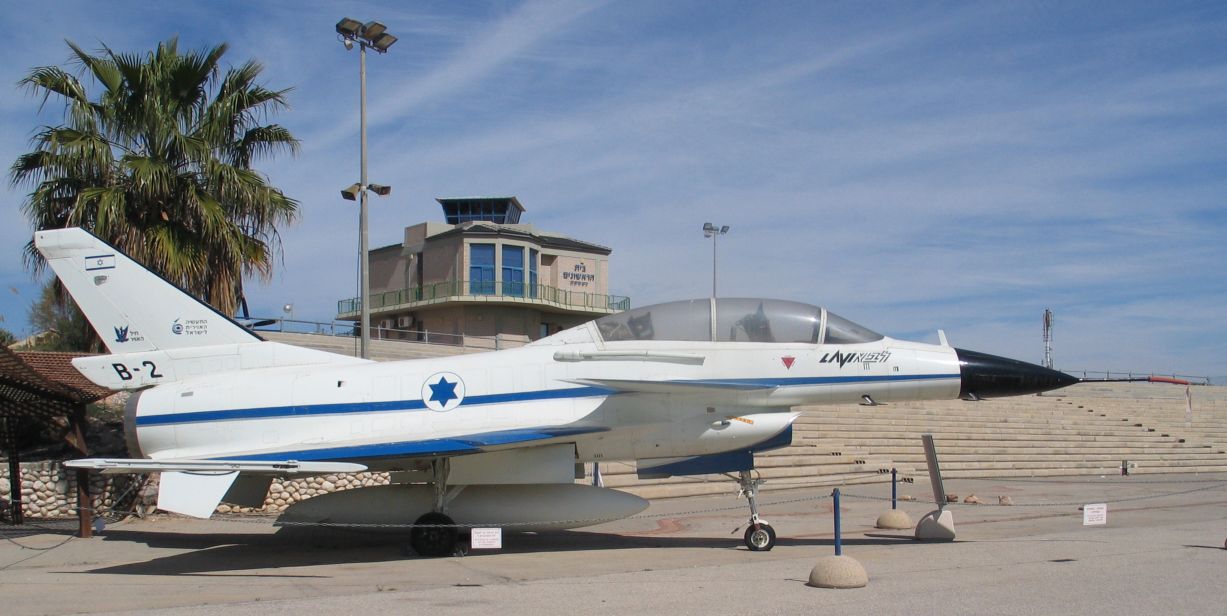 Permission is granted to copy, distribute and/or modify this document under the terms of the GNU Free Documentation License, Version 1.2 or any later version published by the Free Software Foundation; with no Invariant Sections, no Front-Cover Texts, and no Back-Cover Texts. A copy of the license is included in the section entitled GNU Free Documentation License.
Development
Conceptually, the Lavi had its origins in the idea espoused by IAF commander and Minister of Defence Ezer Weizman that Israel's combat aircraft should fall into 'two-tiers' – a small number of high performance aircraft and a larger bulk with less sophistication and complexity. In the mid-1970s, the plane that was to become the Lavi was meant to be a multirole fighter-bomber to replace aging IAF aircraft such as the Douglas A-4 Skyhawk and IAI Kfir; however continuous revisions of the proposed aircraft led to the incorporation of more advanced technologies and ideas to produce an ambitious aircraft[4] in the class of the American General Dynamics F-16. The IAF was estimated to have a requirement for 300 aircraft, 60 of which were expected to be combat-capable two-seat trainers.
Design
The IAI Lavi was a single-seat, single-engine multirole fighter aircraft, principally designed to conduct high-speed penetration and first-pass bombing missions while maintaining a high level of manoeuvrability and survivability.[6] It bore considerable similarities in terms of external appearance to the American F-16 fighter, having a similar configuration and several shared design features while being a slightly smaller aircraft. The engine air intake took the form of a plain chin type scoop with a splitter plate, externally resembling that of the F-16, yet internally it was substantially different. For one example, an inverse S-duct prevents exposure of the engine compressor blades to the front view of the aircraft. This drastically minimizes the frontal cross-sections of infrared and radar alike. In comparison to the F-16, the Lavi was furnished with a less powerful engine and a consequently lower thrust-to-weight ratio.
More info:: en.wikipedia.org
Gallery