Dassault-Breguet Mirage 2000-5
Type
Multirole fighter
Place of origin
France
Manufacturer
Dassault Aviation
First flight
10 March 1978
Introduction
July 1984
Status
In service
Primary users
French Air and Space Force
United Arab Emirates Air Force
Republic of China Air Force (Taiwan)
Indian Air Force
Produced
1978–2007
Number built
601
General characteristics (Mirage 2000)
Crew
1
Length
14.36 m (47 ft 1 in)
Wingspan
9.13 m (29 ft 11 in)
Height
5.2 m (17 ft 1 in)
Wing area
41 m2 (440 sq ft)
Empty weight
7,500 kg (16,535 lb)
Gross weight
13,800 kg (30,424 lb)
Powerplant
1 × SNECMA M53-P2 afterburning turbofan engine, 64.3 kN (14,500 lbf) thrust dry, 95.1 kN (21,400 lbf) with afterburner
Max takeoff weight
17,000 kg (37,479 lb)
Performance
Maximum speed
2,336 km/h (1,452 mph, 1,261 kn) / M2.2 at high altitude
1,110 km/h (690 mph; 600 kn) at sea level
Range
1,550 km (960 mi, 840 nmi)
Ferry range
3,335 km (2,072 mi, 1,801 nmi) with auxiliary fuel
Service ceiling
17,060 m (55,970 ft)
Rate of climb
285 m/s (56,100 ft/min)
Wing loading
337 kg/m2 (69 lb/sq ft)
Thrust/weight
0.7
Armament
Guns
2× 30 mm (1.2 in) DEFA 554 revolver cannon, 125 rounds per gun
Hardpoints
9 total (4× under-wing, 5× under-fuselage) with a capacity of 6,300 kg (13,900 lb) external fuel and ordnance,
Rockets
Matra 68 mm unguided rocket pods, 18 rockets per podh
Missiles
Air-to-air missiles:

6× MBDA MICA IR/RF (Mirage 2000-5, Mirage 2000-9, Mirage 2000 I)
2× Matra R550 Magic-II and 2× Matra Super 530D (Mirage 2000 C)
Astra (Indian Air Force)

Air-to-surface missiles:

2× AM.39 Exocet (Mirage 2000 EG, Mirage 2000-5 Mk2)
2× SCALP EG (Hellenic Air Force)

Bombs
Unguided:
Mk.82 Guided:

PGM 500 and PGM 2000 modular guided bombs (Mirage 2000-9)
2× AS-30L laser-guided missile (Mirage 2000 D)
2× GBU-12 laser-guided bombs (Mirage 2000 D, Mirage 2000 C & Mirage 2000 N with external laser designation)
1× GBU-16 laser-guided bomb (Mirage 2000 D, Mirage 2000 C & Mirage 2000 N with external laser designation)
1× GBU-24 laser-guided bomb (Mirage 2000 D, Mirage 2000 C & Mirage 2000 N with external laser designation)
2× GBU-49 laser-guided bombs (Mirage 2000 D)
1× ASMP-A tactical nuclear cruise missile (Mirage 2000 N)
1x Spice 2000 (Mirage 2000 N)

Avionics
Thomson-CSF RDY (Radar Doppler Multi-target) radar (Mirage 2000-5)
The Dassault Mirage 2000 is a French multirole, single-engined, fourth-generation jet fighter manufactured by Dassault Aviation. It was designed in the late 1970s as a lightweight fighter to replace the Mirage III for the French Air Force (Armée de l'air). The Mirage 2000 evolved into a multirole aircraft with several variants developed, with sales to a number of nations. It was later developed into the Mirage 2000N and 2000D strike variants, the improved Mirage 2000-5, and several export variants. Over 600 aircraft were built and it has been in service with 9 nations.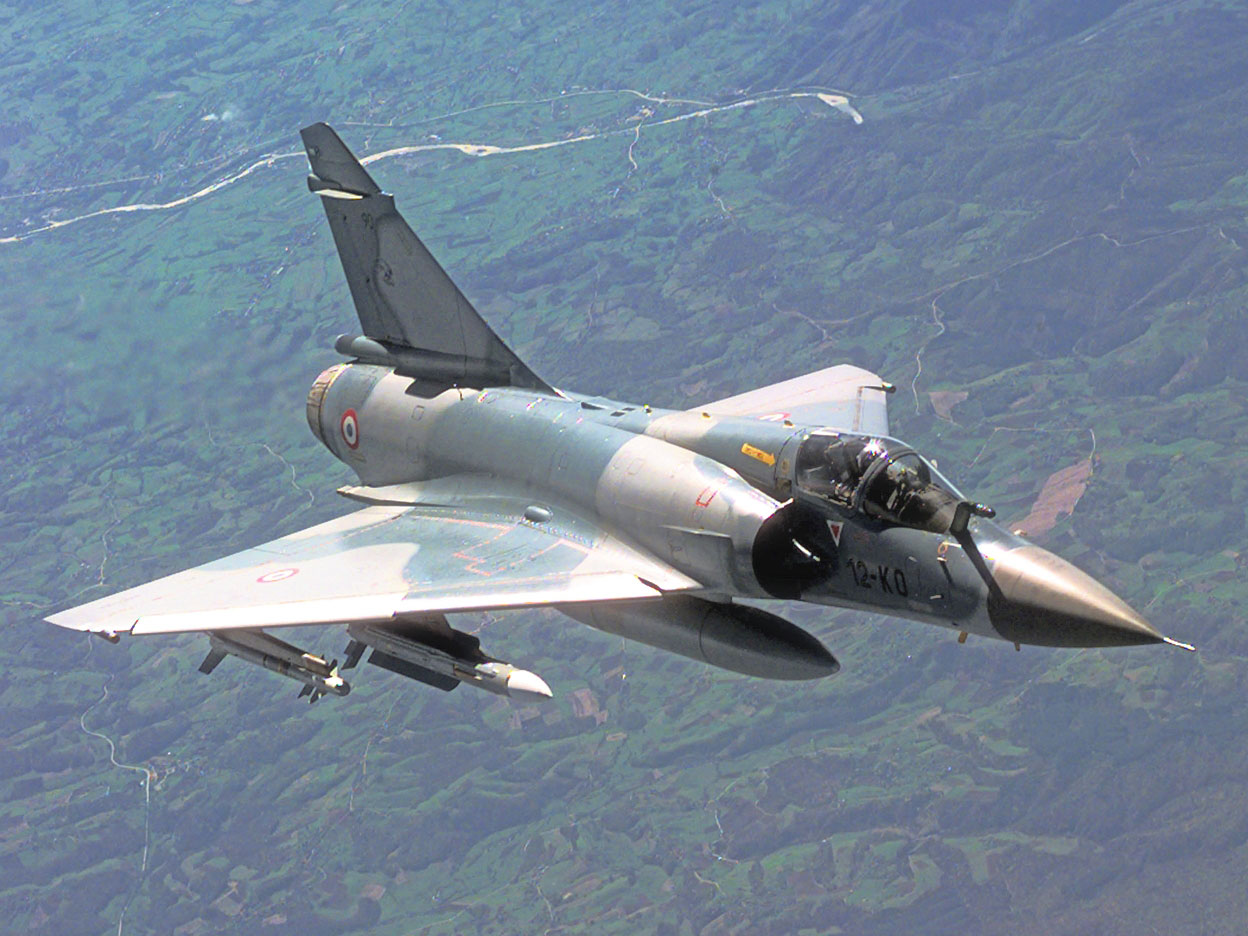 This image is a work of a U.S. military or Department of Defense employee, taken or made as part of that person's official duties. As a work of the U.S. federal government, the image is in the public domain in the United States.
Development
The origins of the Mirage 2000 could be traced back to 1965, when France and Britain agreed to develop the "Anglo-French Variable Geometry" (AFVG) swing-wing aircraft. Two years later, France withdrew from the project on grounds of costs, after which Britain would collaborate with West Germany and Italy to ultimately produce the Panavia Tornado. Dassault instead focused on its own variable-geometry aircraft, the Dassault Mirage G experimental prototype. The design was expected to materialise in the Mirage G8, which would serve as the replacement for the popular Mirage III in French Air Force service.
Design
The aircraft uses retractable Tricycle landing gear by Messier-Dowty, with twin nosewheels and a single wheel on each main gear. A runway tailhook or a fairing for a brake parachute can be fitted under the tail, which can operate in conjunction with the landing gear's carbon brakes to shorten landing distances. A removable refueling probe can be attached in front of the cockpit, offset slightly to the right of centre.[citation needed]
Aircraft flight control system is fly-by-wire.
More info:: en.wikipedia.org
Gallery