М110 Howitzer
Type

Self-propelled artillery

Place of origin

United States

Production history
Manufacturer

General Motors Corp. (transmission)

Built

1963–present

SPECIFICATIONS
Mass
28.3 metric tons (62,390 lb)
Length
10.8 m (35 ft 5 in)
Width
3.1 m (10 ft 2 in)
Height
3.1 m (10 ft 2 in)
Crew
13 (driver, 2 gunners, 2 loaders, (8 support crew–other vehicle))
Armor
13 mm (.51 in)
Main armament
8" (203 mm) M201A1 howitzer
Secondary armament
none
Engine
Detroit Diesel 8V71T, 8-cylinder, 2-stroke, turbocharged diesel 405 hp (302 kW)
Suspension
Torsion bar
Operational range
16 km to 23 km
Maximum speed
54.7 km/h (30 mph)
The 8 inch (203 mm) M110 self-propelled howitzer is an American-made self-propelled artillery system consisting of an M115 203 mm howitzer installed on a purpose-built chassis. Before its retirement from US service, it was the largest available self-propelled howitzer in the United States Army's inventory; it continues in service with the armed forces of other countries, to which it was exported. Missions include general support, counter-battery fire, and suppression of enemy air defense systems.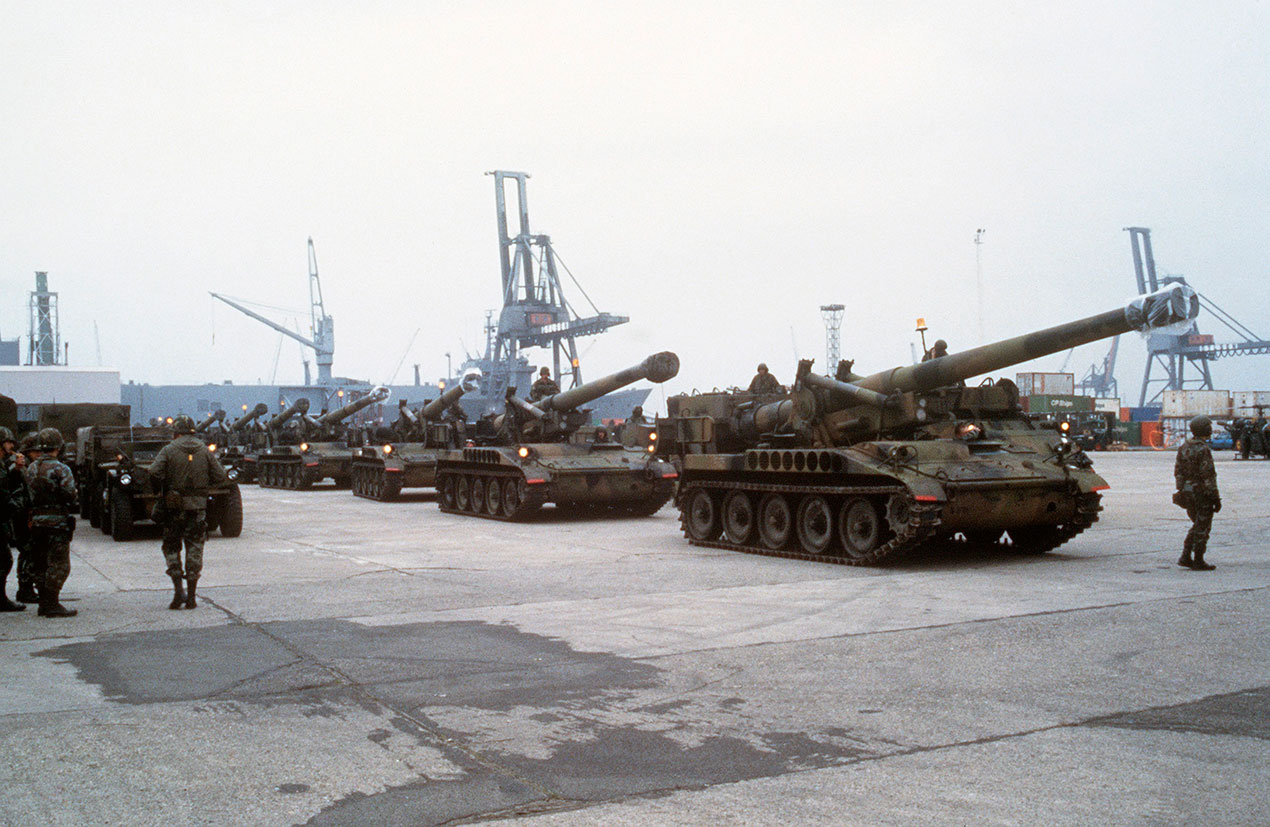 This work is in the public domain in the United States because it is a work prepared by an officer or employee of the United States Government as part of that person's official duties under the terms of Title 17, Chapter 1, Section 105 of the US Code.
Description
According to the operator's manual, the M110's typical rate of fire was three rounds per two minutes when operated at maximum speed, and one round per two minutes with sustained fire. The M110 featured a hydraulically operated rammer to automatically chamber the 200+ pound projectile. These rammers were prone to breakdown and generally slowed operation of the gun because the rammers required crews to completely lower the massive barrel before using it. Well trained and motivated crews could achieve two to four rounds per minute for short periods by using the manual rammer, essentially a heavy steel pole with a hard rubber pad on one end. Using the manual rammer was physically demanding, but crews were not required to lower the barrels as much as with the hydraulic rammer.
The M110's range varied from 16,800 meters to approximately 25,000 meters when firing standard projectiles, and up to 30,000 meters when firing rocket-assisted projectiles.
History
The M110 howitzer first entered service with the U.S. Army in 1963 and was used in the Vietnam War by the United States Army. Later versions were used in the Gulf War - Operation Desert Shield and Operation Desert Storm by Tango Battery 5th Battalion 11th Marines, and the British Armys 32nd Regiment Royal Artillery.
More info:: https://en.wikipedia.org/
Gallery